Petting Zoo
---
Enjoy the thrill of seeing and touching animals of all kinds at our petting zoo. Our farm features a large variety of animals, big and small, including:
Miniature horses
Goats
Sheep
Alpacas
Donkey
Rabbits
Guinea pigs
Pot belly pigs
Chickens
Peacocks
Emus
Geese
Pigeon
Pony
Mule
Turkey
Llama
Ducks
Zebu cattle
Some of animals are rare and/or unusual.
Admission to the petting zoo is $10/person. Kids under 1 are free (the human kind; the baby goats live here).
For our petting zoo rules, hours, and other important information, please see our Plan Your Visit page.
Private Group Farm Tour
---
Private tours for groups of up to 10 people are booked on Mondays. Each tour last two hours, and provides an in-depth and interactive look at the farm and the animals, with the opportunity to hold some of our small animals.
Contact us today to book your private group farm tour.
Have Your Birthday Party at the Farm!
---
Birthday parties are available after 4 pm on weekends and after 3 pm during the week. Reserved in two hour blocks, your birthday party includes a farm tour (with the chance to hold some of the animals), and use of our playground and picnic area.
There is no limit to the number of guests, as long as it is within Covid restrictions. Parties are outside, and you provide your own cake and food (most people have pizza delivered from one of the local pizzerias).
Contact us today to book your birthday party at the farm.
Help Farmer Ruth With The Chores
---
Want to know what it's like running a farm and taking care of so many animals? There's no better way to learn than to help Farmer Ruth with her morning chores. Bookings are available before opening from Wednesday to Sunday every week during the regular season. This experience is limited to no more than five people.
Contact us today to book a morning to help Farmer Ruth with the chores.
Pony rides are not currently available due to staffing. Please check back later or call ahead for updates.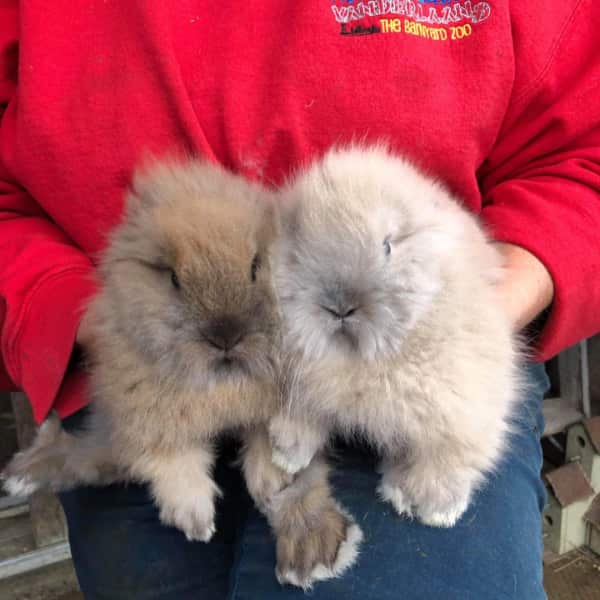 Looking for a new pet?
Want to take one of our cute critters home with you? We sell a variety of small animals, including:
Rabbits (breeds include Lionhead, Holland Lops, Lion Lops, Mini Rex, and Netherland Dwarfs)
Guinea pigs (breeds include American Smooth, Frizzle, Crested, Teddy, Abyssinian, Coronet, Silky, Texel, Peruvian, and Texel)
Skinny pigs
Hedgehogs
Assorted chicks and ducklings (during spring and summer)
Miniature donkeys and pygmy goats (when available)
Please call or email to inquire about what animals are currently available, or check our Facebook page for updates.